In 2011 Instagram shot in 2011 as a comet to the top of all lists of most frequently used apps. A year later, Facebook took over for $ 1 billion. There is an app for iPhone and Android on the phone or tablet of millions of people.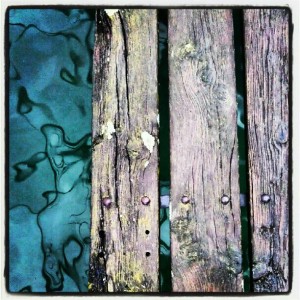 Take a picture with your mobile , open Instagram, make a square cut and edit the result using a series of filters. Bumps are erased, colors refreshed or faded. Add a frame, play with contrast and sharpness. Your picture seems to be made in the seventies, in black and white, as Polaroid or with a view camera. Out of a simple cup of coffee or, as in the example above, a mossy dock, you make a snap something funky. 
Share
Happy? A simple click on the photo shares it with your contacts on Twitter and Facebook or uses it in a check-in on Foursquare. Then, just wait and see how many hearts you get … more about them later. The "flow" of the app is so logical and simple that you would like all app developers to use Instagram as an example.
Like
With Instagram you show your network how the world looks through your eyes. And then just a little nicer. Do you think more people should see your photos? Then add hash tags, words with a # before. My photos from Russia for example, I accompanied by #Russia. So they could be easily viewed by others in Russia were shooting. And vice versa – I have thus discovered some amazing Russian photographers.
Hearts
Ah, the hearts. Of course. Under each Instagramfoto you see a heart and a cloud. The cloud is to comment, the heart is the Like button for photos. Some photos get hundreds of hearts. It seems that there are bots that automatically like all the photos with a specific hashtag. That's a pity. The fun of Instagram is share with real people. Each photo is a picture of someone's life.