Cold, hard cash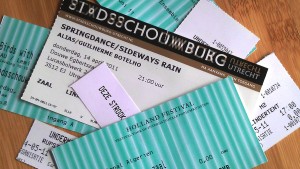 Where is the money earned? At the box office! Visitors buy tickets for events, exhibitions, performances or concerts. And nowadays you will not find an amiable employee behind a cashbox with a notebook. Instead, they sit behind the computer, ask for the postal code and house number, enter the number of tickets, click Print and make payment. Whether it is online or at the box office, in cash or by bank transfer, all sales run through the same computer program.
Not just for the box office
The biggest challenge for a ticket sales system is that not only the box office uses it. The programmer wants to examine the proceeds per performance and to make objective-based analyses. The marketing department wants to know who the visitors are and to select visitors with certain characteristics, in order to contact them or not. The accountant wants annual figures that tally and the assurance that tickets are sold as permitted, the fundraiser wants to find potential donors, and the visitor is concerned about privacy.
The base
Any ticket application can sell tickets, and much more. For example:
Assign standard prices to each activity;
State the maximum visitor numbers per venue, event or space;
Block seats for invitees, or in relation to the sightlines;
Register visitors' address details.
Advanced functions
If you are looking for more, not all programs will meet your requirements. Ask yourself if you really require the following from your ticket sales system:
Designated sales, i.e. numbered seating;
Sale of group tickets, batches and subscriptions;
Discounts and benefits for visitor groups;
Cross-sell: meal offers and other extras at the time of ticket sale;
Dynamic pricing: the price is determined by a number of factors;
The option for the visitor to print their admission ticket themselves;
Link between the visitor and their Facebook or Twitter profile;
Donation details and loyalty programmes.
What are the benefits?
A well-implemented ticket sales program not only provides insight into the number of tickets sold per event or season, but also outlines a clear image of the visitor. It is a complete toolbox for engaging the customer.