TOT feels right at home backstage at large international theatre productions. A lover of dance, founder Marijcke Voorsluijs was a touring stage manager for 10 years. Since 1997 TOT has been the technical coordinator for dozens of international companies and festivals. Using current web techniques, TOT is keen to share passion for theatre along with practical information.

In this section of the website you'll find:
Texts about and images of unique international theatre creators;
Tour schedules of their productions;
Technical information about performances with technical production by TOT;
Tips: performances not produced by TOT, but heartily recommended;
Tour schedules for the current season, by city and by theatre;
Maps to all theatres and links to their websites and technical details;
An explanation of how TOT works. 
Finding your way
Background information on the history and how TOT works can be found through the Technical Production page. Performance information can be found either through the Calendar or the Production Overview.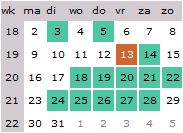 Familiarise yourself with TOT's expertise, enjoy the abundance of information and imagery, and rest assured that the technical production of a performance or festival is in good hands with TOT. Get in touch if you would like to know more.