In this ICT project management section of the site, you find under the Applications heading a multitude of ways to support work processes with the help of automation. In order to utilise these properly you must have a clear picture of your organisation's work processes.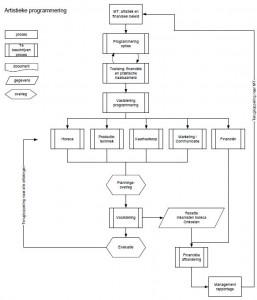 Process scan
TOT has developed a process scan: a way to analyse and clearly outline work processes. Process analysis is a logical product for Marijcke Voorsluijs who, as an industrial psychologist and the owner of TOT, thoroughly understands the business processes within the cultural sector.
When would you benefit from a process scan?
Everything is running; however, you have the impression that it could run better or more efficiently;
You suspect that somewhere in the organisation work is being duplicated, or that an important component is falling by the wayside;
You have a good idea of the current situation, but a clear graphic representation would help;
You expect personnel changes to occur in your business and wish to maintain the current levels of expertise;
You're about to reorganise and want to give the new organisation format a dry run to avoid any pitfalls;
You have just broadly outlined and completed a reorganisation and must now specify everyone's tasks.