Scheduling in the cultural sector
Personnel scheduling is not unique to the world of culture. An airline company schedules pilots; a railway operator, conductors; hospitals, nursing staff; and the security sector, guards – all of whom work irregularly. However, events-guided scheduling is unique to the cultural sector. No fixed day, evening or weekend shifts, but a scenery building shift, one for sound, welcoming the public, guided tours or ticket sales, with times and staff levels determined by the performance or event.
Do it yourself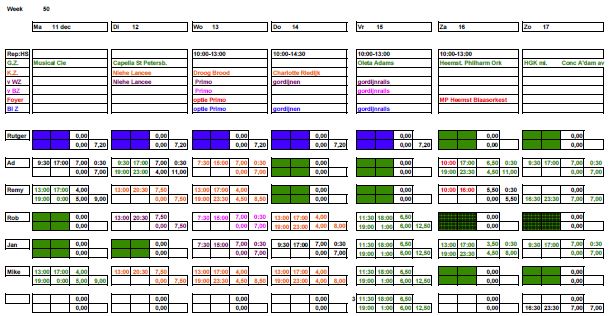 It takes no time at all to make a list with pen and paper of who is working today. Those who can work with Excel can create a template which adds up the scheduled hours per staff member per day and per week. But if you want to maintain a holiday overview, apply overtime rules, check schedule and hours worked for legislation compliance and want to generate management information, you will soon be overwhelmed.
The basis
You can expect the following from an automated personnel schedule:
Information on all staff members, listing contact details, dates of birth and work times;
Staff availability, and their leave requests;
Events and performances which you can schedule staff for;
Check for adequate staff levels for each event.
A step further
Highly tempting, for example:
Checking the schedules for legislative compliance;
Logging in options for employees and freelancers: submitting requests, perusing the schedule and consulting the overview of hours worked;
Hour prognosis based on the events and performances booked;
Insight into the ratio between the hours offered to a client and the scheduling.
If having all this data easily within reach appeals to you, a personnel scheduling program is just what you need. Because a good application is more than a simple schedule: it is also a tool to monitor illness-related absenteeism, to maintain a grip on overtime, to closely monitor programming costs, and to give the staff insight into what they have accrued.